Happy New Year and best wishes from our family to yours!!
We would like to start the year by thanking each and everyone of you for your loyalty and your trust!
We hope you started 2019 with all good things in mind and plenty of great resolutions!
Our good resolution for 2019 is to give you more awesome products, a better user experience on our website and all the love we possibly could!
Off to a great start this year!!
Get 10%off the entire website with the promo code
VISIT EVIDECO.COM AND USE THE PROMO CODE NY2019
PROMO CODE VALID FROM THURSDAY JANUARY 10TH 2019 TO THURSDAY JANUARY 31ST 2019 . LIMIT 1 PER CUSTOMER CANNOT BE USED WITH ANOTHER PROMO CODE OR COUPON.
Get a feel of Mother Nature!
Improve your interior with some Evideco products specifically crafted for your wellness and comfort in the bathroom.
Our Ecobio Bamboo collection has it all, it's design, practical and will fit perfectly with your bathroom decor.
New year, New bathroom!
Check out our great selection of furniture available on the website.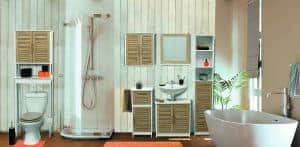 The Stockholm collection will give a Nordic feel to your bathroom.
We have an amazing rack!!
Evideco also offers a wide selection of over the door pegs and towel racks to please even the pickiest of our customers!
To our amazing customers, have a wonderful year, and remember, at Evideco shipping is always free all over the US!!