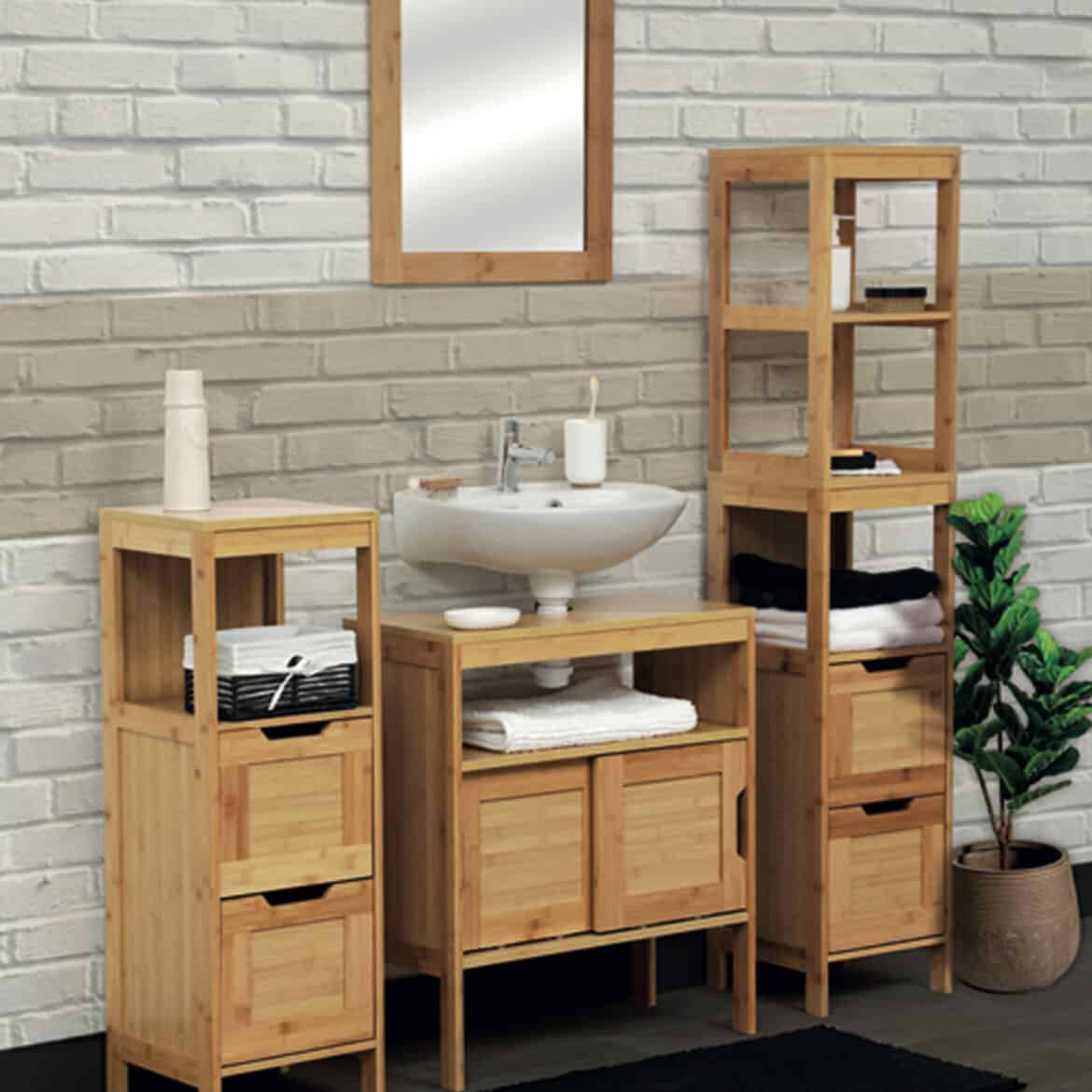 When we think of decluttering our home or getting storage furniture to save space, we seldom think of the bathroom. However, a bathroom usually gets messy and untidy with all the bottles of cosmetics and shaving supplies. Whether you own a small or a vast bathroom, keeping it clean and organized will transform it into a luxurious space where you can indulge in personal pampering.
Getting storage furniture to match your bathroom space
A little bit of creativity, a few new ideas and your zeal to make your bathroom more spacious and organized will help you to find the right storage furniture to suit its design and style. You can also visit our article about airbnb bathroom tips !
With our storage furniture save space & add style !
Every bathroom has tight corners and hidden spaces that you can used for storing the essentials. A small bathroom can benefit from the over-the-door shelf to keep towels and linens. A tiered shelf is all you need to make the most of the space available.
Fix an additional rod with S- hooks to hang your loofas and caddies. This will keep the bathroom tidy without the essentials strewn around.
Go vertical with stack shelves. Smaller bathrooms will look spacious with bracketed shelves that leave a lot of room around.
Using up every bit of space will make your bathroom roomier. The cabinet door can be used to hold blow dryers, irons, and brushes.
Secret shelves? If you have a full-length mirror in the bathroom, fix up a cabinet behind it to keep your bath supplies.
Under the sink – this is another area that you cannot waste. Drawers under the sink are space-saving.

Make your bathroom less cluttered by installing over-the-toilet storage. These racks don't take up floor space and make the bathroom look airy and organized.
Some people love simple designs that make their spaces look sleek and modern. An etagere will fit the bill if you belong to this group. Just slide it in and you will get tons of storage space without drilling any holes in the wall. A tall etagere will give you six shelves to keep all your bathroom supplies organized.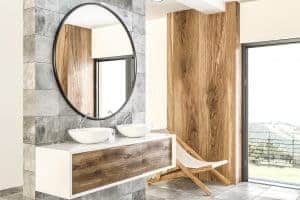 A shower cubby in monochrome will fit any modern bathroom décor that offers enough space to hold your shampoos and bath salts.
Getting a hamper is a simple way to collect your used linens without dumping them on the floor. Get a hamper in matching colors to gel with the décor. As well you can get a colorful one for some cheerful effect.
---
Recycle your favorite stuff
Do you love to recycle old pieces? A ladder at a corner is an innovative storage idea. You can use it to hang extra towels and rolls of toilet papers.
Your favorite bar cart can be repurposed for organizing your towels and cosmetics.
Even the China cabinet when taken out of the living room can find a place in the bathroom to store the supplies. Fix it on the wall to save space. It will make your classic bathroom look more elegant.

Further when in a hurry, we take out sprays and lotions and leave them scattered on the sink. In addition keep a tray on the sink to keep small items like cleansers, spray bottles, and lipsticks so that they are not spread on the sink. Moreover, a wooden tray adds character to the décor.
Without remodeling your bathroom or splurging on costly furniture, a simple bar stool can create more surface room. It can also hold a potted plant or succulents to give a fresh green touch to the décor.
Mirror on the wall? If you are bored by the simple and plain one, get something more decorative. Most importantly, this will cheer up the bathroom look and also make you feel better.
In conclusion, storage furniture for a bathroom need not be expensive. You can find sleek and functional pieces that fit your budget and space for a cozy and more spacious look directly in our shop !