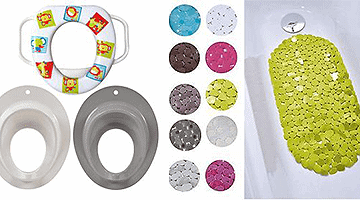 Uncategorized
5 ways to make a kid friendly bathroom
|
12/14/2018
The bathroom is an essential part of the house, yet it's not always the easiest to make it kid friendly without compromising the design! Here are 5 ways to make a kid friendly bathroom without painting it with rainbows!
1. Keep it organized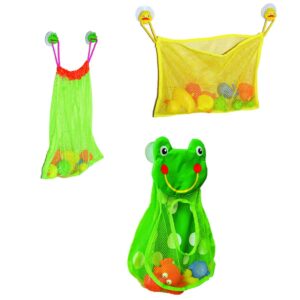 Imagine: it's been a long day, you take a good bath with candles and bubbles. When you get out…" squeeeeeek",  you step on that squeaky toy you hate and all the every day stress comes back!
When giving a new design to your bathroom, remember that storage is important whether it's for your products or for your kid's!
Make the most or your bathroom walls with shelves. But also funny hooks and toy organizers.
Or optimize your space with furniture that look nice and design but are equally space-saving and useful!
2. Make it comfy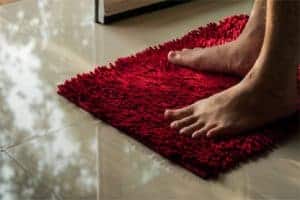 Nothing makes your bathroom comfier than a soft fluffy bathmat.  Pamper your feet and your kids' feet with bathmats, rugs, and toilet pedestal mats, go crazy with colors and shape.
3. Show them bathing can be fun

Your kid doesn't want to go in the bathtub?  We can hear them say " it's so boring!!!!".
Let's make it fun, get them some awesome Bath toys that will make it seem like  bath time is just the most amazing moment of the day!!
Squeaky toys, floating toys, fishing set or toys to learn numbers, anything can be a game in the bathroom!!
4. Teach them a lot
your kids can learn from anything and you can teach them a lot more than you think in the comfort of your own home!
The bathroom is also a great place to learn! Start by teaching them numbers with smart numbered toys!!
Potty training is a big part of the learning experience, and a comfy potty seat is very important to begin the potty training lessons! Make sure your kids' tush always feels warm and comfy with a good potty seat!
Teach them tidiness by getting toy organizers, so they can never have an excuse not to tidy up after the bath! Storage Baskets are ideal to hide all your product and your kids products. That's also a great way to teach them how to share space.
Get different colors of storage bins and teach them the color coding system!
5. Make it a non slip zone  
Your kids' safety is important for you and for us!! Because we all know how dangerous it can be to fall in the shower or the tub. Kids are always on the move, they can't stay in one place, make sure your secure your bathtub or shower with a non-slip mat so you never have to worry about that again.
The best thing is: a lot of differentcolors and shapes are available, chances are it will
please everyone in the family without compromising your bathroom style!!