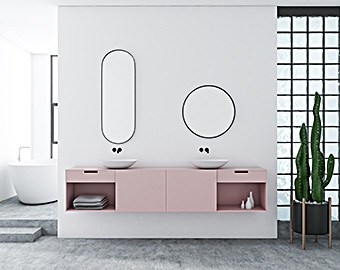 The bathroom is often the smallest yet most frequented room. Organize your bathroom, therefore, vital as a tidy room is more functional and appealing.
You also know where to find what's needed without rummaging through mounds of clutter. Luckily, due to their tiny nature, bathrooms are easily organizable.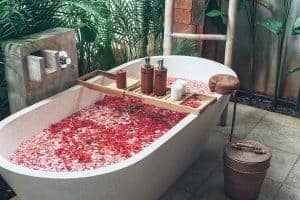 Declutter
Before organizing, retrieve everything from existing storage spaces. After that, declutter. Often, our bathrooms are filled to the brim with inessential items. Get rid of:
Expired makeup and medications
Non-bath related items
Empty bottles
Old, rusty, and defective things
Opened products you have no intention of using again
Products unused for the last year
Put away duplicates and extra items too. Don't toss them out though.
Sort
Next up, sort and arrange them according to type. Arranging by products type simplify finding things. For instance :
Skincare products
Hair products
Shaving products
First aid items
Oral hygiene products
Hair tools like straighteners and brushes
Prescription medications
Over the counter pills
Afterward, decide where all the items will go. Rarely utilized items can be kept in the linen closet or under the sink cabinet. Frequently used items should go in medicine cabinets and countertops.
Also, take stock of existing storage options. If your bathroom has sufficient storage places, you're lucky. But if not, go shopping and buy additional storage items.
Organize
You have every item needed; have decided where all your stuff will go. Now it's time to roll your sleeves and start organizing.  Let's start with the least loveable place.
Linen Closet. Store bulky and least used items like extra tissues and towels inside this closet. Its best to place frequently used items towards the front and center; and the rarely used towards the back. Doing so makes things more accessible.
As for smaller items, group them into storage baskets and organize appropriately.
Under the Sink Cabinet: Not every bathroom will contain under the sink cabinet. If your sink comes with a cabinet, utilize this extra space. Cleaning products are best kept here for convenience. The extra items can also be stacked here. However, be careful with paper goods. Since these cabinets house pipes, dripping can damage the paper goods.
Drawers: Everything and anything seems to always end up in the drawer. What's more, these items are rarely neatly arranged. Cosmetics, makeup, oral hygiene products, and any other regularly used items are best stored in drawers. To neatly arrange and prevent everything from rolling out whenever the drawer is opened, invest in drawer dividers.
Medicine Cabinet: Medicine cabinet is an excellent spot to stash regularly needed and useful items. What can be displayed on the countertop fits here. Stock small items in mason jars for a neat look. As in linen closets, arrange frequently used products towards the front and center; and the rest at the back.
Countertop: Corral frequently-used items in a decorative tray for an immaculate display. As for small items, stylishly arrange them in apothecary jars.
A rule of thumb is to always keep all countertop items in the back 1/3rd. This way, you'll have ample space for getting ready. Also, place items next to where they are used e.g., a toothbrush holder next to the sink.
Conclusion
An organized bathroom is relaxing and attractively appealing. Once organized, strive to maintain its neatness. Taking as little as 20 minutes daily to arrange and return everything to its designated space will retain your bathroom's impeccability.