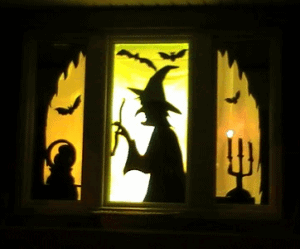 Decorating for Halloween is a lot of fun. But it can also be demanding in terms of time and resources. If you want to give your home an awesome Halloween decoration without having to spend so much time and money, these simple Halloween decorating ideas will surely delight you and your guests.
One simple way to give your home a scary, haunted look is by decorating your windows and door with some spooky silhouettes. You will be amazed how some simple cut outs could transform your boring window into something impressively cool and, yes, SCARY!
How to make Halloween silhouettes for your windows
In this simple project, you will need to find some cool patterns from the internet and print them out in a scale that will look perfect in your windows. Other things you will need to create your DIY Halloween project are:
a roll of inexpensive black paper
double sided tape or clear tape
a permanent magic marker, a white chalk pencil, or a marker pen in metallic (to make sure you see the lines you draw in black paper)
a pair of scissors
a measuring tape
parchment paper or wax paper (optional)
Once you have everything you need, simply cut out your printed template and trace it on the black paper. If you want to make a ghost as big as yourself, or anything bigger than your white paper, you can print out the template in multiple pages, glue them together and cut out the shape you want. Now that you have your stencil, you can tape it on the black poster paper, use your chalk pencil or marker to trace the shape and then cut along the edges.
To create a mysteriously glowing background, you can use wax paper to fit the panes of your windows by taping it along the frame of the window.
Once you have your black paper shaped in the silhouettes you want to use as Halloween decors, you can apply them onto your windows. If you chose to use wax paper, attach your silhouettes to the wax paper. If you don't want to use wax paper, you can just tape your silhouettes directly to the glass on your windows.
When it gets dark outside, simply turn on the light and, voila, your home looks scary and cool from the outside!
There are a lot of templates you can copy online. You can also get really creative and modify the templates you find to make them more interesting. To spark up your creativity, here are some of the coolest Halloween silhouettes we found: