Every parent dreams of giving the best things to their children. But sometimes, in the midst of frantic planning, parents could miss a few tiny details which could harm their children in big, complicated ways. So to help you and your baby stay on the safe side, we have gathered 8 tips safe nursery window to ensure your child's safety in his or her own room.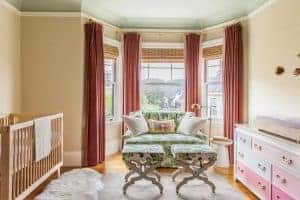 1. Childproof your blinds
Blinds are a popular window treatment choice because they can be easily closed and opened. Their only drawback, though, is that they come with a cord- a strangulation hazard for those little explorers you love so much. If you want to use blinds for your baby's windows, always make sure that you have secured all cords out of your child's reach before leaving him all by himself in the room. The problem of cords can also be addressed by getting a safety device for accessing blind cords. You may also look for the type of blinds which come with breakaway cords. These cords would break once pulled with strain.
2. Eliminate tension rods
Your window treatment rod should always stick on top of the window. Sadly, tension rods are not screwed into the wall, making them susceptible to falling. And they could fall right onto you toddler's head.
3. Make sure everything has been properly installed
When heavy drapes and curtain rods fall on your child, things could get really bad. Your child could get a nasty bump on his head or, worse, get suffocated by the heavy fabric covering his whole body. This is why you can never be too meticulous when it comes to checking your window treatment installation. Always make sure that the every part of the window treatment hardware has been firmly and securely attached to the wall or to the wall stud.
4. Never hang beaded curtains
Once your baby discovers that her hands could do so many wonders, she might give your attractive curtain a good tug and pick-up fallen pieces of colorful beads. And for little ones, everything just has to go right into the mouth. So, don't risk putting any choking hazard in her room.
5. Use UV-blocking window treatments
Your baby could get really hot even if you think the weather is comfortably cool.
6. Keep window treatment out of your toddler's reach
For babies, anything they could grab belongs to their month. So if you don't want your baby sucking and biting on the drapes, keep them at a safe distance. Hanging window treatment far from baby's reach would also significantly decrease the chance of getting curtains and rods falling on her.
7. Buy your curtains before paints
While paints can be mixed to achieve any color you could possibly wish for, curtains and drapes only come in a limited array of colors and patterns. You'll have an easier job getting the paint to match your curtains than the other way around.
8. Choose a whimsical pattern
You can use your curtain to entertain your baby's developing eyesight and encourage her curiosity. Make the whole room harmoniously cheerful by integrating the curtain fabric, or at least the pattern, on the bedding or other parts of the room.