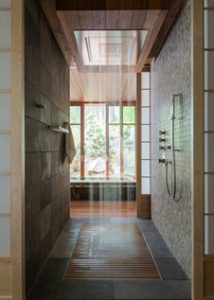 If you want to update your bathroom, familiarizing yourself with the hottest 2015 design trends would be a great way for you to achieve a modern and stylish look in the bathroom. Consider incorporating one or two of these trends into your plan for a more fashionable bathroom design.
Water-Saving Toilets. Going for cost-efficient fixtures is definitely number one in the hottest trends this year. In the bathroom, you could go green by following the trend of water-saving toilets such as dual-flow and low-flow toilets.
High-Tech Faucets. Sensor-operated faucets are now in-demand for being efficient and user-friendly.
Bringing in white fixtures into the bathroom makes it airy and light. This year, people have become more conscious of space and light, airy atmosphere.
Absent Bathtubs. If you're observant enough, you've probably realized how people these past years prefer quick showers than long dip in the bathtub. Showers save time. And now that less and less people prefer long baths, bathroom designers have made exquisite designs, allocating the budget for an expensive bathtub somewhere else. Another reason why bathtubs are becoming less popular is that it requires a lot of water. This is yet another influence of going green to the bathroom.
Expansive Walk-in Showers. Because bathtubs are out and showers are in, latest bathroom designs capitalize on bigger shower spaces. These days, people are looking for more space and an open feeling in the shower space. Walk-in or doorless showers are among the trend, along with curb-less showers and no-threshold showers.
Free-Standing Bathtubs. For some households, bathtubs are still wanted. But the trend this year is all about saving space to make room for a wider floor space. So, for those who like bathtubs in the bathroom, free-standing bathtubs meet the criteria of the space-saving trend.
Vanities with Sink. His-and-hers double sink vanities are definitely hot this year for bathrooms within master bedrooms. Double sink vanities are also great for bathrooms shared by siblings.
Stylish Metallic Fixtures. For elegance, interesting metallic fixtures in different finishes and colors have become popular these days. Hot finishes include brushed nickel, chrome, oil-rubbed bronze and some coppery and brassy metals. In some bathrooms, gold-plated fixtures and gilded finishes are used in restraint amount to produce sheer elegance and luxury.
LED Lighting. Within the bathroom, inside cabinets and just about anywhere else, LED lights are in demand for their energy efficiency and long life span. Again, LED Lighting is still a part of the Go Green trend.
Heated Floors. Needless to say, it's only great for areas where it gets really cold. It makes your feet comfortably warm so that going to the bathroom in winter wouldn't be as agonizing as it used to be.