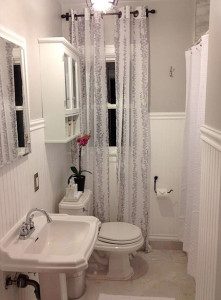 One of the reasons why bathrooms are just so hard to beautify is its usually very limited space. There are lots of things you need to put in the bathroom and it's always such a big challenge to keep the room tidy and stylish. An even bigger challenge is how to leave some room for you to move around after trying to fit everything together. So if you want to maximize your limited space while keeping it all neat and beautiful, these design tips will surely make a big difference:
Get a shower curtain instead of a glass door. With a shower curtain, you don't have to squeeze your body through the wall when trying to get in and out of the shower. If you have a glass door installed to divide the shower and the toilet, it takes up precious space plus it makes the toilet walls seem too close to each other. With a shower curtain, you have the option of sliding it open to allow for a less claustrophobic atmosphere.
Use a corner sink. You will be maximizing the space this way. Sometimes, even the slimmest pedestal sink could make a really small space even smaller by disrupting the available traffic space in the bathroom. Just make sure you place your corner sink so that it does not create an awkward walk-around situation when you try to get into the shower.
Mount your vanity above the floor. This will free your floor, giving space to some smaller toilet accessories.
Pick vanity and storage with rounded corners. Sharp corners may pose hazards in tight spaces. With rounded corners, you may now say goodbye to hip bruises. This tip is a must if you're sharing the bathroom with children.
Use large scale patterns. Wide stripes and other big scale patterns won't help you maximize space, your bathroom would definitely look bigger and more spacious.
Install a bigger mirror. It will take up more wall space but you don't need it much. But having a mirror stretched wide will make it convenient for multiple bathroom users, while tricking your eyes into thinking that you are in a bigger room.
Mount the towel bar on the shower door. Your door can serve many purposes. It's an ideal place to hang your towels and shower supplies. After all, having a dry towel always within your reach is really convenient.
Install a trough sink. Its narrow design is an ideal space solution. It looks stylish plus it can be mounted on the wall to free floor space.
Pick a one-shelf vanity. Space savers are a trend nowadays. It will be easy to find a good looking pedestal vanity with a single shelf for holding towels and small toilet supplies. Mounting your shelves on the wall also yields the same effect.
Mount your faucet on the wall. This will be perfect for a narrow sink. Together, they will save you so much floor space and will allow for smoother traffic inside the bathroom.