Window Curtain Panel
Give Your Home a Makeover with these Incredibly Simple but Impressive Design Hacks!
|
06/15/2015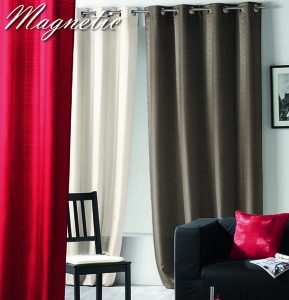 Admit it. No matter how perfect your home looks, things could still get dull and boring. So for you who just can't live with the same interior decorating design for the rest of your life, here are some inexpensive and really easy ways to give your home an exciting makeover.
Paint your Furniture White.
Yes, painting those wooden chairs and tables white could make your living room look fresh, bright, sophisticated and expensive. You will be amazed at how spacious the whole room would look by simply adding more white in it.
Hide most of your Home Decors.
If you have hoarded quite a handful of antiques and collectibles for years, putting them in the basement for a while would definitely change the whole atmosphere of your home. You may just leave a minimal number of decors to highlight the center or side table, and perhaps, one or two frames to adorn the bare wall. After all, too much of a good thing is bad. After a few months, you could take a few items from your collection and change the decors.
Hang an Attractive Curtain.
You can take advantage of the curtain's width to cover your clutter or hide the messy kitchen. You can get some readymade draperies from the store or buy a curtain wide enough for your space. Also get a fresh set of window dressings. Hang it on a stylish curtain rod, and voila, your home feels so neat and
Put the Seating Away From the Walls
A little rearranging could make a lot of difference. Just by pulling that sofa or those chairs away from the wall, you could achieve a more spacious look within the room. By doing this, you're also allowing more sunlight into the room. This way you could use natural light to read a magazine and relax in the airy feel of an unobstructed window.
Modernize your Bathroom
Get a new set of some contemporary bathroom accessories to make everything feel fresh and clean. You could design your bathroom with an entirely different theme or you could simply change a few tiny details.
Harmonize the Bedrooms
A very simple trick in pulling the rooms in the house together is by using the same pair of contrasting colors in every room. For example, you could choose a combination of lavender and green and make sure each bedroom has a set of things in lavender and green. You don't have to paint the entire bedroom in those colors. Just adding the color in tiny details will do. You may also just hang similar abstract paintings or frames to create a harmonized effect.
Stick some Pretty Wallpaper On the Window Shades
If you have some leftover wallpaper, you can use it to create a lively and lovely look inside the room. You can use the same wallpaper design for a set of shades, or mix and match differently designed wallpaper leftovers.
By doing one or a few of these tricks, you can give your home a whole new and exciting look without having to spend so much.