Bath Mats
Bath Mats and Rugs: How to get the best ones for your bathroom
|
06/08/2015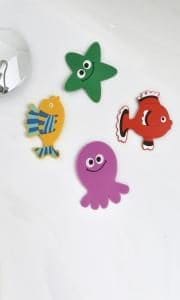 Bath mats and rugs make your feet feel warm and comfortable inside the bathroom. These friendly accessories can give your bathroom a fresh and welcoming atmosphere. So, how do you maximize the use of these two pretty bathroom accessories? Let's first know what they are and what they do.
Bath mats are those soft, absorbent mats we usually put just beside the tub or outside the shower cubicle. Some of them come in plain colors and are made of anti-slip materials. These keep us safe and the bathroom dry. On the other hand, bath rugs are usually those rugs we place at the door or at the sink which we always keep dry. They are usually made of coarse but comfortable materials and are printed with nice patterns and designs. In your bathroom, both would be useful. Both can contribute much to the overall look and atmosphere of the room.
When shopping for bath mats and rugs, you only need to remember a few tips to help you get the best ones to perfectly suit your bathroom and your style:
Pick the size just big enough for your space.
Look for as many options as you can find to help you choose the best product there is available for you. You don't want to regret buying a set of baths and rugs after discovering you could have bought something a lot better if only you tried to look a little harder.
Pick rugs and baths which would be consistent with your overall bathroom design theme. When getting a new mat or rug, make sure that it matches the style or, at least, the color scheme of the entire bathroom. Choosing a bath rug or mat of darker hue will guarantee a great look for your bathroom, as long as it matches the entire bathroom's style.
Consider the people who would be using the bathroom. If there are kids using it, get something that would be attractive to them like those which are printed with interesting shapes, colors or pictures of some cute cartoon character. You may also pick rugs and mats which feature designs that especially suit your personality.
Choose affordable mats and rugs which would maximize the worth of your money.
Buy several extras. You will need to change them often.
Choose durable materials which would stand wetness, long use and many washings. Cotton is usually a preferred material for bathroom mats and rugs mainly because it is durable and quick to dry. Just make sure you properly dry cotton-made mats and rugs and not just leave them wet on the floor for a long time.
Choose rugs and mats which are made of quick-to-dry materials to prevent the growth of mildew and molds.
If you expect many people to use the bathroom, buy mats of darker colors so you won't have to change them too often because of dirt. Also flat weaves would be a better choice over pile rugs.
When washing them, separate bathroom rugs from mats mainly because they are made of different materials.
When buying multiple items, choose the ones you could easily mix and match. It would be expensive to buy as many sets as your bathroom actually needs.