Shower Accessories
Make Your Man Happy this Fathers' Day with these Home Decorating Ideas
|
06/19/2015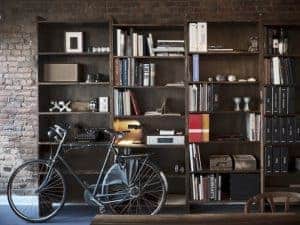 There are thousands of different ways to give your husband an exciting surprise on Fathers' Day, on his birthday or your anniversary. But if you want to make that surprise last so that he feels important and special for a very long time, considering his happiness in decorating your home would truly be wonderful.
The thing with women is that many of us feel like we have the final word in every decorating decision, simply because women are in charge of anything creative at home. But the truth is, men also have a great taste when it comes to decorating your home. If we let them, they'd design the whole house their way. On this special day, try setting aside your lady preferences and consider these awesome home decorating ideas your husband would truly love.
Make Your Home Clutter-free. I'm not saying women are messier than men. But for so many different reasons, we sometimes leave the house covered in clutter. Men do this too. So, no matter who does the cluttering, one simple way to make a lot of difference in the home is to unclutter the house.
Hide most of your accessories. Look around you and see how many of those accessories are there because they please you. Even if your husband seems to be okay with them, he might want a little less of your decorative stuff. To spoil him on his special day, make the home design all about him and not all about you. Just choose the most important accessories which are actually essential in making your home beautiful. Don't worry. You can always take them out again when you think hubby spoiling time is over.
Display his passions. Now that you've minimized your accessories, you're making room for his stuff. Now you could decorate the house with what he likes. If you had some of his stuff put in display already, now is the time to make his stuff the focal point of the interior design. Does he love his electric guitar? Put it on the rack and place it strategically in the clutter-free living room so that it becomes the main décor. He likes photography? Take some of his pictures, put them in a uniform frame and hang one in the living room, the bedroom, the kitchen or the bathroom.
Prioritize function. No matter how much you love that pretty little furniture, don't put it there if it's not going to be used a lot. Don't put a delicate side table if your husband won't be allowed to put his messenger bag there, especially when he's too tired to walk to the bigger table. Even if that vintage mirror frame looks perfect in the bathroom, don't put it there if the frame alone takes too much precious wall space which should have been otherwise used to hand towels with. Also go for comfort rather than style, although style matters too.
Engage your kids. When planning for a wonderful daddy surprise, don't forget the kids. Frame your kid's drawing or painting on the wall. If you have a baby who can't seem to greet Daddy beyond saying da da da da, here's an idea to get Baby make Daddy happy: Trace his or her feet on a piece of paper, cute the traced feet and use those as templates. Make several pairs and stick it on the wall, leading somewhere with a bigger surprise.
So, ladies, give your husband a comfortable place where he could feel refreshed, loved and truly at home.