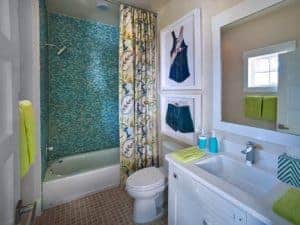 Having kids at home can make the house livelier. But it could also mean having your patience constantly tested. Children can make a lot of mess and are so vulnerable to accidents and health threats. And when you're sharing a bathroom with them, you'll find the need for a more efficient organizational skill to keep their stuff tidy. So, if you have kids at home, take a lot at these design tricks to make your family bathroom clean, organized and child-friendly.
Safety first. Before adding anything into the bathroom, inspect every little detail in the bathroom and determine whether they could be dangerous to children or not. To protect kids from bumping their heads, install fully recessed niches for your soap instead of those protruding ones. Adding a pretty rubber cover to your faucet would also be a good step towards child-proofing your bathroom. Also consider getting countertops with rounded edges to eliminated sharp corners where children could bump their heads.
Get a step stool. Vanities and sinks are often installed for grown-up height. Getting a sturdy, non-slip step stool will let children use the sink and wash themselves. They can also gain access to bathroom supplies and bath toys. When getting a step stool for children's use, consider one that is wider at the bottom to keep it from tipping over. Also place the mirror a little bit lower so kids can just access it using a step stool.
Use open shelving. Drawers and doors can be difficult for kids to operate. On the other hand, open shelving allows children to easily find what they need. It will also be a lot easier for them to take anything without scattering everything all over the place. This way, your job of getting them cleaned and getting the bathroom cleaned can be lessened.
Place children's needs within children's reach. Children can use a step tool but it won't be of any use to them if your towels are placed way above their reach. Make sure that your kids can reach the basic things they need in the bathroom so they won't have to rely on you too much. To make things easier for your little ones, consider hanging the towels on the side of the vanity. Installing hooks just low enough for their reach will also make it convenient for them to hang their towels and robes.
Choose a bigger sink. Installing a big sink, if you have enough space to accommodate it, will allow more pair of hands to be washed at once. It will keep water from splashing all over the counter and will be easier to clean.
Provide a sturdy stool or a safe place to sit on. Children would need to sit down while putting on slippers or when drying off. Adults can also benefit from a stable stool when supervising a young child.
Use a shower curtain. Shower doors can have sharp edges that can hurt children. Plus, they can also be inconvenient for little hands. A shower curtain, on the other hand, is perfectly safe and easy to close and open. When you choose to use a shower curtain, hang it on a wall-mounted rod. It will be a better alternative to tension rods which kids could just yanked down.