image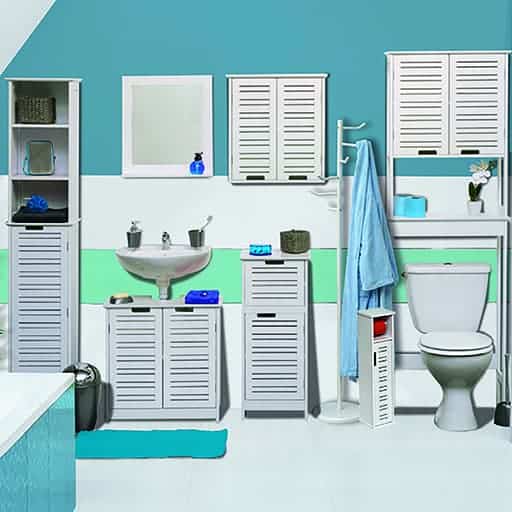 SPACE SAVING CABINET : This rotating tower cabinet helps to maximize storage in tight spaces. Ideal for keeping your toiletries right at your fingerprints without sacrificing valuable floor space. Small footprint of 13″L x 11 3/4″W x 61 1/2″H (33Lx28.8Wx157H cm)
360 DEGREE ROTATION : A heavy-duty swivel system located at the top of the bottom cabinet grants a smooth 360 degree rotation of the top cabinet. It helps find your essentials easily and at hand reach while providing sturdiness to prevent it from falling. Ideal to store towels, shampoos, bathroom accessories, clothes, shoes, hats, scarfs, clothes, books or decorative items
NICE STORAGE CAPACITY : This bathroom furniture features a bottom cabinet with two crossing shelves, a top cabinet with 3 shelves, with rails to secure your accessories and fragile items, or to hold small towels and a double robe hook on one side. It can accommodate a wide variety of bathroom products and help banish clutter from your bath
FROM ROOM TO ROOM : Fill it, move it, lock it in place, check out your outfit with the large mirror. You can easily glide this swiveling cabinet with 4 wheels from one room to another and lock it in place in your favorite room like bathroom, entryway, hallway, laundry room, bedroom or office
REAL GLASS MIRROR : A nice inclined mirror offers a clear view of your outfit, with a height of 38 Inches and a width of 10.8 Inches, you can see your entire figure in a single glance
STURDY CONSTRUCTION : This Over-the-Toilet Bathroom Storage Space Saver Miami is made of white painted sturdy wood – medium-density fiberboard (MDF)- and features 2 louvered doors, which combines elegance and convenience, helping you stay organized with a contemporary style and a clean modern look.
STURDY CONSTRUCTION : The wood frame provides long lasting durability with a white painted finish. This over the toilet cabinet Miami is the perfect furniture to decor your bathroom without sacrificing valuable floor space, it utilizes the wasted storage area around the toilet for maximum space efficiency.
NICE STORAGE SPACE : This bathroom furniture features a roomy closed cabinet with a large inside shelf (non adjustable) and also an open cabinet which is ideal for displaying decorative items and for enhancing your bathroom décor, it can accommodate a wide variety of bathroom products and help banish clutter from your bath. Dimensions : 70.5 inchesH x 24.8″L x 9″D
MATCHING COLLECTION : Complete your decoration with other products of the collection Miami like tower cabinet, floor cabinet or under sink cabinet. It's an easy and elegant way to maximize your bathroom's available space while providing functional storage and shelving
SAFETY and EASY TO USE : This cabinet fits over most standard toilets. Available height to fit your toilet is 36.4 Inches (height from the floor to the bottom of the first wooden shelf). This elegantly-designed space saver is easy to assemble and can even be secured to a wall if desired (hardware supplied). Doors are also magnetized to stay securely closed. Easy clean surface and with this toilet shelf, your bathroom will be tidier and cleaner.
Wall Mounted Medicine Cabinet with a classic design which suits any bathroom
Help banish clutter from your bathroom with ample storage and a useful large mirrored surface
22.8″H x 22.1″L x 5.1″W ,easy to assemble with the included hardware, imported from France, made in PRC
An easy and elegant way to fit more necessities into your bathroom and to provide ample storage in a small space
Complete your decoration with other products of the collection MONTREAL