Towel Racks & Coat Racks Free Standing
image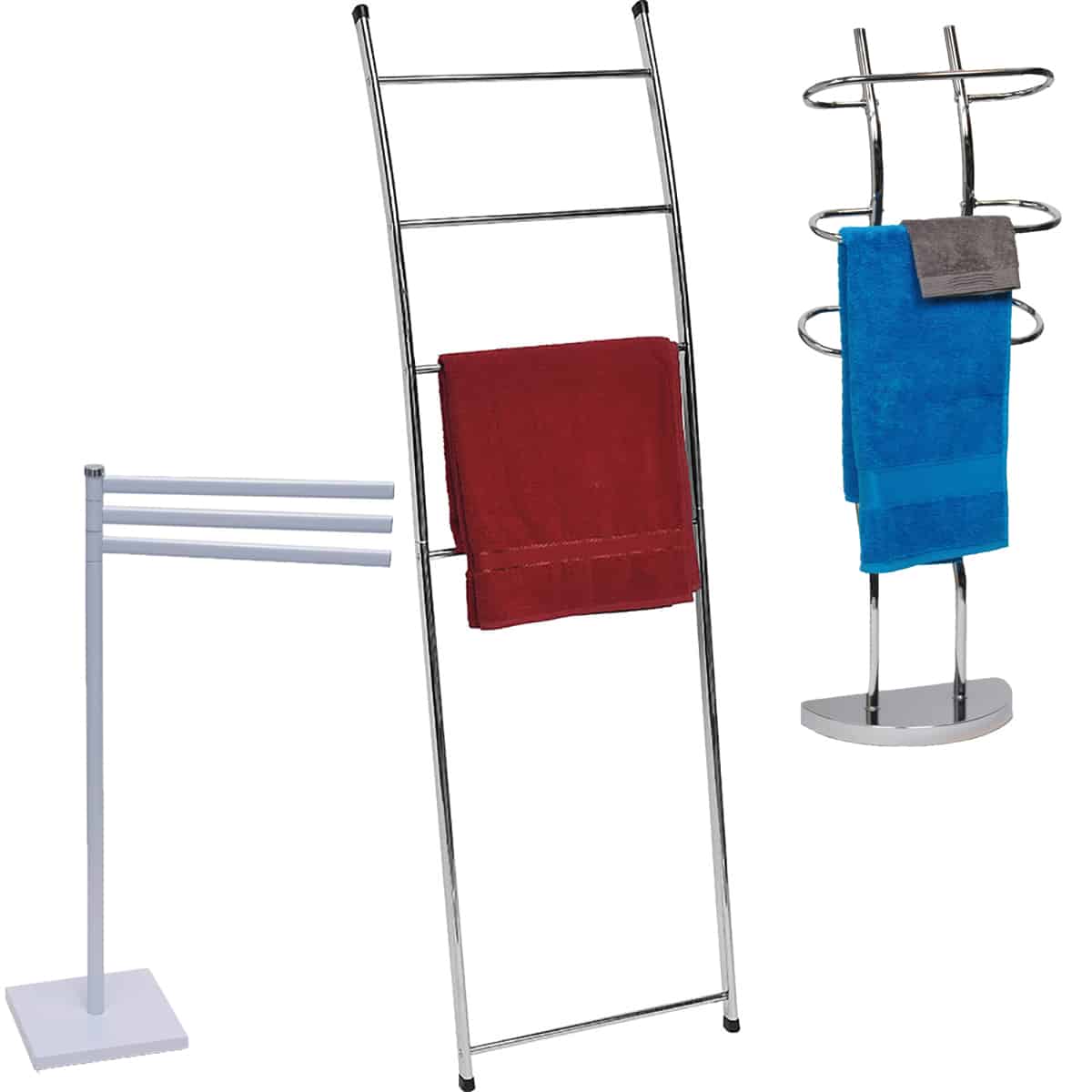 SPACE SAVING RACK : this clever metal ladder design makes it easy to lean against any wall to maximize storage in tight spaces, while also offering mobility for use throughout your house. Large storage capacity with dimensions of 61 H x 17.7 W x 5.8 D (distance from the wall)- approximately 150 H x 44 W x 10.5 cm. 2 colors available : white or chrome-plated.
MULTI PURPOSE : Use to organize clothing or household linens. This ladder rack is perfect to store towels in the bathroom, scarves, bags or even newspapers in the living room, or blankets in the bedroom. Functional for those short on space.
EASY TO INSTALL : No need to damage your walls with a drill or screws, just lean the ladder against your wall, and you're done. Easy assemby in minutes (hardware provided). The weight of the towels and the curved design of the ladder will keep the towel holder pressed on the wall, and four rubber caps on the top protect the walls and give a secure hold on the feet
NICE DESIGN : this slick modern towel organizer in your bathroom adds a splash of unique style and functional convenience to your home, the simple but elegant curved ladder styling suits any room, bedroom, laundry, toilets and bathroom
MOVABLE : Easy to remove from the wall, just move the ladder from the wall if the floor or wall need to be cleaned, painted,…If you need to move, you can quickly dismantling it, the perfect gift for house warming, for friends and relatives! Imported from France, made in Taiwan
Features 3 oval metal arms,with a 360 degrees mobility, to keep your favorite towels neatly displayed
This Freestanding Three Arms Towel Rack Square Base White fits easily in small, tight spaces with its 35.8"H x 20.5"L x 9" W (base)
Very stable with its white coated metal square heavy base and its non-skid rubber pad
Imported from France, made in Taiwan, color white. Simple assembly required, hardware supplied.
An attractive way to hold up your towels or wash cloths and to add a modern design to your bathroom!